Bone Conduction glasses have been the trend for quite a while now. In bone conduction, the sound gets transmitted through our cheekbones directly to the cochlea, rather than by air through the eardrum (which is how we usually hear).
Bone Conduction Glasses
When the sound is being conducted through our bones, it creates a weird feeling on both the sides of the head, like plugging up our ears and trying to pay attention to our voice while talking. But the main advantage of these glasses is the open ear listening experience.
We can easily be aware of our surroundings when walking or running and listen to music at the same time. It is also a boon for the deaf and hard of hearing people. Let's look at some of the best bone conduction glasses available at the moment.
Vue Smart Glasses
Battery Life- 3.7 V 90mAH
Lens Type- Interchangeable
Bluetooth-4.2
Water Resistant- yes
Vue Smart Glasses are a crowded funded project by Kickstarter. It was started in 2017 and updated in Dec 2019.
It is compatible with AI-powered apps like Google Assistant and Siri.
ARM Cortex-M3 processor
Supports "Find My Glasses" feature
Available in 3 colours- brown, black, white
Three types of prescription lens available- single vision, non-corrective and progressive prescription
Also available as sunglasses in various colours
These glasses allow us to track our activities- like steps and calories via phone. Also allows setting reminders.
Audio- Has "stereo bone conduction speakers" which follows prevention of sound leakage technology. The sound resonates through the inner ear while the external ear is free to focus on surrounding noises—frequency range of 20-20,000 Hz.
Battery Life- provides a 2-3 days standby time and a talk time of 5 hours.
Compatible with smartphones that have iOS 8+ or Android with 4.3+ OS.
VocalSkull Alien 5
Battery Life- 3.8V 250mAH
Lens Type- Interchangeable
Bluetooth-4.1
Water Resistant- IP67
These glasses are best to purchase when one is on a strict budget and was one of the first glasses in the "bone conduction" category.
Has an exclusive soundproof cavity design that reduces sound leakage by 87%.
It has an excellent build quality and can also be used as prescription frames.
Have separate glasses for Myopia, Hyperopic and Astigmatism.
Audio- Enjoy listening to music or talking on a call, while focusing on the surroundings.
Battery Life- Rechargeable lithium-ion battery (3.8 V 250 MHA), with 2hours charging time and 300 hours of standby time. Talk time of 4-5 hours is available.
Compatible with smartphones of various Operating Systems like iPhone, Samsung, LG, HTC, Android and Windows.
Provides Bluetooth pairing to connect with the phone quickly.
Glasses that protect from 400 rated UV rays.
The newer version has crisp sound technology.
It also has an anti-skid nose pad that is raised.
Zungle Viper
Battery Life- 115 mAH
Lens Type- Interchangeable
Bluetooth-5.0
Water Resistant- IPX4
It first came out in the market with Panther, the first generation of audio sunglasses; and is the best bone conduction glasses at the moment. These glasses support both Amazon Alexa and Google Assistant. At present, it has two versions- Zungle Viper and Lynx, while Viper is a much more versatile design.
Audio- The design and the experience of the "bone conduction" is unparalleled. The vibrations are very crisp and clear on the inner ear and lobe. Also provides an excellent acoustic experience.
Battery Life- The second version comes with reduced battery life, at only 115 mAH. But is still provides 4 hours of continuous usage and 100 hours of standby time.
The battery can be fully charged easily in less than an hour.
Supports Bluetooth 5.0 with excellent audio transmission.
Hip and trendy wayfarer design.
Polarized and UVA 400 glasses to protect the eye, created with FDA certification.
Can access the AI assistants by simply pressing a single button.
Also, it can be used while playing sports and is water-resistant.
Ossie Sound Glasses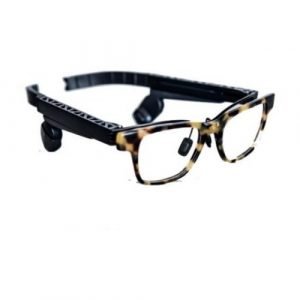 Battery Life- 3.7V 2×100 mAH
Lens Type- Interchangeable
Bluetooth-4.2
Water Resistant- IPX6
This is another crowd-funded project on Kickstarter, by ZMART CONCEPT. They provide sustainable inventions. Ossi Sound glasses have cutting edge technology like memory titanium, auto-fit system and bone conduction sound vibrations.
Audio- The sound conductor is just outside the ear opening, and prevents distortion and leakage of sound (by almost 90%).
Battery Life- Lithium-ion battery that is rechargeable, with 24 hours standby time and total usage time of 3 hours. Has fast charging ability where 50% of the battery gets charged in only 30 minutes.
To protect eyes from indoor blue light, it has blue light blocked lenses.
For outdoor use, Carl Zeiss polarised lenses are used to protect from harmful UV rays.
Five colours to choose from- honey, rose, grey, black and solid black.
The standard USB charger is capable of providing fast charging.
Can be used in the rain, etc. as it is water-resistant.
Also, dust resistant.
FAQs:
Here are some pointers to help you make an informed decision and help you purchase the bone conduction glasses that will satisfy your needs.
Select VocalSkull Alien 5 if you need the glasses for Sports Activities.
Home Eyes provide the best eye protection as well as an audio experience.
At present, Zungle Viper is the best glasses that can be shipped via Amazon. It is also ideal as sportswear. Even protects eyes in windy skyscrapers.
Wait for the next crowd-funded project if you are willing to wait to purchase your smart glasses.
Music lovers should be on the lookout for musicians.
OptiShokz Revvez is set to release in late 2020. These could change the entire market of bone conduction glasses as we know it today.